Japan and the US have airlifted hundreds of their citizens from Wuhan, the epicentre of the coronavirus outbreak, as officials in China said the death toll from the disease had risen sharply overnight to 132, with nearly 1,500 new cases in the country.
A government-chartered plane carrying 206 Japanese nationals arrived in Tokyo from Wuhan on Wednesday morning. Officials said four of the passengers – a woman and three men – had coughs and fevers and had been taken to a hospital in separate ambulances for treatment and further tests.
The government's top spokesman, Yoshihide Suga, said there was no confirmation yet of whether they were infected with the virus.
Pressure is mounting on China to control the spread of the disease. The country's national health commission on Wednesday said the total number of deaths from the flu-like virus rose by 26 on Tuesday, with almost all of the new cases in Hubei province, which is under virtual lockdown.
The number of confirmed cases rose to a total of 5,974 – overtaking the 5,327 confirmed cases in mainland China during the severe acute respiratory syndrome (Sars) epidemic. The Sars outbreak killed more than 770 people globally, including 349 in mainland China.
Officials in the US, meanwhile, said a chartered plane had left Wuhan earlier on Wednesday with about 200 US citizens onboard, including staff from the local US consulate.
"These travellers will be carefully screened and monitored to protect their health, as well as the health and safety of their fellow Americans," US state department spokeswoman Morgan Ortagus said.
Australia said on Wednesday it would help "vulnerable or isolated" citizens leave Hubei province, where Wuhan is located, and quarantine them on Christmas Island, an Australian territory in the Indian Ocean that is home to a controversial detention centre for asylum seekers.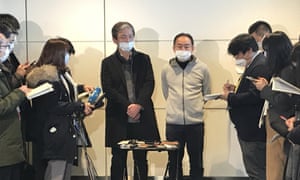 Britain is finalising plans to repatriate citizens from in and around Wuhan. The European Union will fly its citizens out aboard two French planes this week, and South Korea was due to do the same. Several other countries were assessing their options.