Japan's emperor Akihito is preparing to become the country's first monarch to abdicate in two centuries, a day before his eldest son takes his place as the new occupant of the chrysanthemum throne.
Akihito, who expressed a desire to abdicate in 2016, fearing his age would make it difficult for him to carry out public duties, will enter the Matsu no Ma (Hall of Pine) at the imperial palace early on Tuesday evening and relinquish his title in a short ceremony that will be broadcast live on TV.
Earlier the same day, the 85-year-old emperor, the first Japanese monarch to spend his entire reign stripped of political influence under the country's postwar constitution, was due to report his abdication to his ancestors and the Shinto gods at sacred spots inside the imperial palace grounds in Tokyo.
They include the sun goddess Amaterasu Omikami, from whom, according to mythology, the 2,600-year imperial line is descended.
In the evening, he will end his reign with the symbolic return of the "three sacred treasures" – a sword, a mirror and a jewel – that will be brought into the room by imperial chamberlains.
Little is known about the regalia, which will remain inside boxes throughout the ceremony. The sword and mirror are said to be replicas, with the originals kept at Shinto shrines elsewhere in Japan.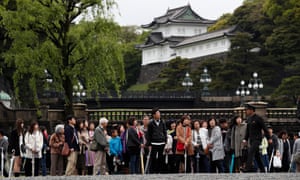 Empress Michiko, Akihito's successor crown prince Naruhito, and his wife and future empress crown princess Masako, will be among the 300 people attending the ceremony, along with the prime minister, Shinzo Abe, the heads of both houses of parliament and supreme court justices.
Abe will announce the abdication, followed by brief remarks from Akihito, whose 30-year reign – known as Heisei (achieving peace) – will officially come to an end at midnight on Tuesday.
Read more The Guardian