It seems fitting that the cultural centre of New York's latest luxury private development should look like a quilted Chanel handbag. Rearing up at the northern end of the High Line on Manhattan's reborn West Side, the Shed presents a 10-storey wrapping of puffed-up diamond cushions to passersby, standing as the gaudy gateway to Hudson Yards – the most expensive real estate project in US history.
While it might fit in with the gilt-edged world of Swiss watch boutiques and Michelin-starred chefs that awaits in this $25bn private enclave, it is an unlikely costume for what the project's architect and originator, Liz Diller, insists is "simply a piece of infrastructure" to support whatever artists want to do. "It's not precious," she says of the $500m building. "It's muscular and industrial, just meat and bones."
All hope has been vested in the Shed as the one redeeming feature of Hudson Yards, a project roundly condemned as the ultimate fruition of disaster capitalism. Floating on a 28-acre magic carpet over the train tracks, it is a place where glistening towers of $30m apartments rise above a vast shopping mall of luxury brands – a millionaire's playground that, by some estimates, has benefited from almost $6bn in public funding and tax breaks.
Within this bloated commercial citadel, the Shed has been billed as the one truly public element, standing on a slice of city-owned land and mostly funded by private philanthropy. Its director, Alex Poots, formerly of the Manchester international festival, said its publicness was the very thing that attracted him to move there.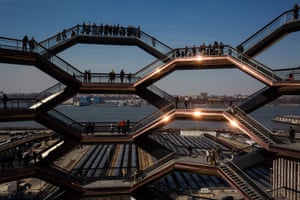 "I've never known a venue where you can just wander into the main hall off the street," he says, standing in the gaping 37-metre high space enveloped by the quilted shell. "My motivation is to break down the barriers between so-called high and low culture, and this is the perfect flexible toolkit to do that."
Read more The Guardian