The Guardian has found evidence that hotel staff in the world's richest country are paid below the minimum wage for enduring long shifts in intense heat.
The Marsa Malaz Kempinski hotel rises like a fairytale palace from a manmade island on an exclusive stretch of Qatar's coastline.
Even by the standards of the richest country in the world, it oozes opulence and excess. Its car parks are lined with Ferraris and Rolls-Royces, a 20-metre chandelier hangs glittering in its marble-lined lobby, and the royal suite goes for more than £12,000 a night.
The hotel, which opened in 2015, is popular with Qatar's elite, who gather at weekends to enjoy its lavish rooms and beachfront location.
However, life is very different for the men and women who guard the cars, clean the rooms and manicure the lawns.
They come from some of the poorest parts of the world – south Asia, east and west Africa and the Philippines – but have paid large recruitment fees, some as high as £3,160, to work here.
Paying fees to recruitment agents to secure a job in Qatar is a widespread practice, but leaves workers vulnerable to debt bondage and forced labour.
The security guards endure 12-hour shifts outdoors in temperatures that can top 45C, but earn little more than £8 a day – the price of a glass of fresh juice at the hotel.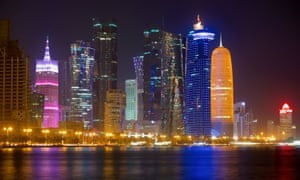 Some say they have worked for three or four months without a day off, but are fined five days' pay if caught sleeping on duty.
Interviews with 19 hotel staff reveal multiple allegations of breaches of Qatar's labour laws, including salaries below the minimum wage. The findings reveal for the first time that the well-documented exploitation of construction workers in Qatar extends to the hospitality sector.
"Have you ever stood for 12 hours straight?" says one security guard. "[At first] I couldn't walk properly because I felt like my joint was dislocated. But I had to do it anyway, because I have to recover the money that I paid to the agent to come here … It feels like you've been punched in the head a thousand times."
Kempinski Hotels, which has its headquarters in Switzerland, styles itself as an exclusive, high-end brand, steeped in European heritage. Unlike many international such chains, Kempinski manages its hotels directly rather than franchising out the brand.
For more read the guardian