At first glance, it is like any other entertainment complex in Qatar: a giant shopping mall, a multiplex cinema and an amphitheatre for musical shows. But there are no high-end boutiques, no women … and no Qataris.
Welcome to Asian Town, an entertainment and shopping venue in the heart of the largest labour camp in Qatar, on the outskirts of the capital, Doha. Each day, thousands of young men gather here from the workers' dormitories that stretch out into the desert for miles around, to enjoy mutton curries, Bollywood films or just a sanctuary from the searing heat.
"When I came here in 2008, there was nothing but construction on all sides. After work we used to sit in the camps not knowing what to do," said Dan Bersamin, a 35-year-old plumber from the Philippines. "Now Asian Town has given us some entertainment."
Instead of a football ground, which you might expect to find in a World Cup host nation, Asian Town boasts a 13,000-seat floodlit cricket stadium, the first and only one in the country.
"We are big cricket fans and watch most of the games here," said Samar Sahay, 21, from Bangladesh. "I really like Asian Town. It gives you a feeling that you are not far from home."
The venue, which is owned by the government, attracts 950,000 visits a month, the vast majority of whom are migrant workers. A full 95% of Qatar's working population come from outside the country, with the majority from south Asia.
Asian Town is just one of a number of recent developments designed to cater to these roughly 2 million workers. Adjoining it is Asian City, which provides "upmarket" accommodation for workers. The men are housed in youth hostel-style dorms, fitted out with games rooms and gyms. New "workers' hospitals" are also in the pipeline.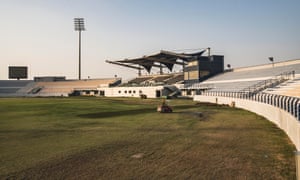 "This is the cheapest place to shop in Qatar," said Ahmed Refaat, the marketing manager of Asian Town. "The events and entertainment are all for free. The workers are so satisfied and happy."
For more read the Guardian